About King Kamehameha's Awesome Athletes Inclusive Canoe Race
The King Kamehameha's Awesome Athletes Inclusive Canoe Race is a partnership between The Arc of Hilo, OSMD Hawaii (Operation Sammy Muscular Dystrophy), and inclusive canoe club 'Ohana Wa'a Laulima, with a shared vision to host a safe and inclusive paddling event here in Hilo Bay that welcomes individuals with disabilities to participate in a culturally and historically significant sporting activity.
When 'Ohana Wa'a Laulima and OSMD Hawaii joined forces to acquire a hale on Hilo Bayfront and outrigger canoes, the mission was simple, to give individuals with disabilities (Awesome Athletes) an opportunity to canoe paddle in a welcoming and safe team environment.
The Arc of Hilo, started in 1954 as one of Hawai'i's first non-profits serving people with intellectual and developmental disabilities, shared the same vision with OSMD/Ohana Wa'a Laulima, to improve access to activities and resources available on the Big Island, and to promote those activities to the state's disabled community, as well as tourists with disabilities.
Hilo Bay is famous for King Kamehameha's launch of a fleet of war canoes to conquer Maui and unify the islands. Holding the very first inclusive Race Day in Hilo Bay Front on the weekend honoring and celebrating King Kamehameha gives our Awesome Athletes and the general public an opportunity to connect with the Hawaiian culture that previously was not available.
It is our hope that this event spurs further projects that will provide equal opportunities for individuals with disabilities to participate in.
Our First Annual race last year saw almost 50 adult Athletes and 14 keiki Athletes take part with over 130 volunteers helping to make this dream come to fruition.
In our second year, we hope to have over a 150 Athletes across both divisions.
About Us – 'Ohana Wa'a Laulima
'Ohana Wa'a Laulima is a canoe club formed to give individuals with disabilities equal opportunity to learn and experience the sport of paddling. Officially recognized as a 501(c)3 not-for-profit organization, the club's mission is to give people of all abilities a connection to the ocean and the Hawaiian culture by providing a safe environment where they can be on the water and learn more about the ocean and what it can provide.
Kahu Kauila Haumea is the founder of 'Ohana Wa'a Laulima and has been paddling as part of the University of Hawaii recreational paddling class for over 10 years. When the Covid-19 pandemic started, classes were suspended, but Kauila's passion for paddling and being on the ocean never wavered. Presented with an opportunity to purchase his own canoe, Kauila was encouraged by others with disabilities who also enjoyed paddling.
Kauila was born with a rare neuromuscular disorder that makes him legally blind, has a speech impairment, and he has difficulty walking. Even with these challenges and limitations, very little stops him from doing things. Kauila has dedicated his life towards helping others with his skills of traditional chanting (Oli), prayer (Pule), lomilomi massage, reiki, and house blessings.
Kauila has inspired many of his paddling classmates over the years to overcome life's challenges and find a passion for the traditional Hawaiian outrigger canoe.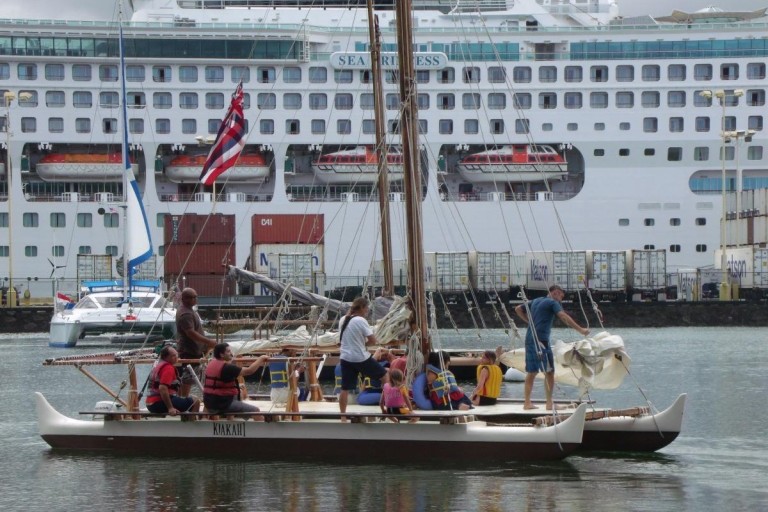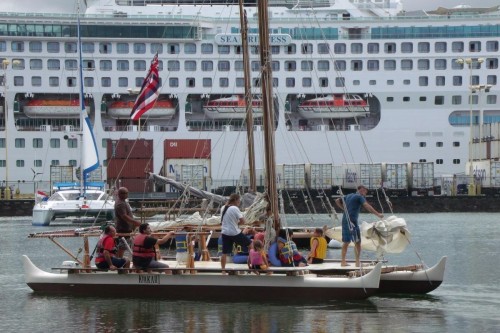 'Ohana Wa'a Laulima is determined to provide a safe and welcoming learning environment with experienced paddlers and currently holds weekly paddling sessions in partnership with OSMD Hawaii and the American Canoe Association.
About OSMD (Operation Sammy Muscular Dystrophy)
Hilo native "Sammy" Sampaga runs a foundation called Operation Sammy Muscular Dystrophy Hawaii. In 2015, Sammy had a goal to walk around Hawai'i Island to bring awareness to his disease.  Sammy didn't just walk around the Big Island, he paddled to every island in a wa'a and walked each island's roads as far as they would go.
"I am not just doing it for my kids, I'm doing it for all of the people that (are) battling muscle dystrophy. I am an advocate, and an ambassador for muscular dystrophy and I am going to travel the world and spread awareness, but I am going to finish the Hawaiian Islands first," he said.
Sammy has not only brought awareness to his disease, but hope to untold numbers of Hawaiians and others who battle their own challenges, including addiction. He's currently help educate and support islanders struggling with opioids and other addictions.
As an accomplished paddler, Sammy has years of experience with recreational and competitive canoe clubs throughout Hawai'i, competing in numerous regattas. When the opportunity came with the help of Mayor Billy Kenoi to launch an inclusive canoe club on the Hilo Bayfront with Ohana Wa'a Laulima, Sammy jumped at the chance, making it now possible for youth and adults with disabilities to enjoy a culturally and historically significant activity right here in Hilo Bay, where 10,000 of King Kamehameha's warriors launched their canoes to conquer the islands.